Right now, I want to review my VPS on QuantumCore. I had this server because of their offer post on LET. Activated on Friday, March 18th, 2022 only $1AUD for The First 3 Months of 1GB VPS.
Introduction
QuantumCore is 100% Australian owned and operated. The team behind them have over 20 years of experience in the Web Hosting industry. Their nodes have a 1Gb link, clock speeds of 2.70GHz+ and use pure NVMe storage and located Equinix Data Centres in Sydney.
Ping/tracert IP is: 103.246.250.3
Looking Glass: https://lg.quantumcore.com.au/
I test their QUBIT-1 plan, which have specifications :
VPS Panel
They are using SolusVM as their VPS management system, you can manage your server on their Client Area. Their SolusVM panel include :
Server Information (your server specifications like Online status, Main IP Address, Monthly Bandwidth, Memory and HDD)
Boot / Reboot / Shutdown
Console / NoVNC Console
Reinstall OS (Rebuild x86_64 OS) -> Almalinux8, CentOS 6, CentOS 7, CentOS 8, Debian 9, Debian 10, Ubuntu 16.04, Ubuntu 18.04, and Ubuntu 20.04
Graphs (to check your network traffic usage) screenshot
Reverse DNS (Some hosting company disable this feature or maybe charge it, but QuantumCore enable it for free) screenshot 🤤
You can't direct login to their SolusVM panel to manage your server, but don't worry all basic vps panel management stuff is available on their clientarea (whmcs).
No ISO installation method 😪
Uptime
For the record, i wrote this post on May 17, 2022. So the server should been online since 59 days ago, and when i access today, my uptime command output :
root@ubuntu20:~# uptime
 15:24:30 up 59 days, 21:08,  1 user,  load average: 0.00, 0.00, 0.00
Benchmark
Benchmark yabs
Benchmark this server with yabs.sh to check server specifications, test CPU, storage, and network. This benchmark result was done after fresh OS installation to get best result.
Quite fast for fio Disk Speed Tests
Benchmark serverscope
ServerScope for alternate benchmark result : https://serverscope.io/trials/0oBE#io
Network
To check network of this vps i used online tool ping.pe, if you're on asia pasific region, you may focus ping on Singapore, Japan, India and Australia.
Average ping on Singapore ping : 93.41 ms, Japan 217.9 ms, Mumbai (West India) 277.89 ms and Bengaluru (Central India) 152 ms and Australia 1.25 ms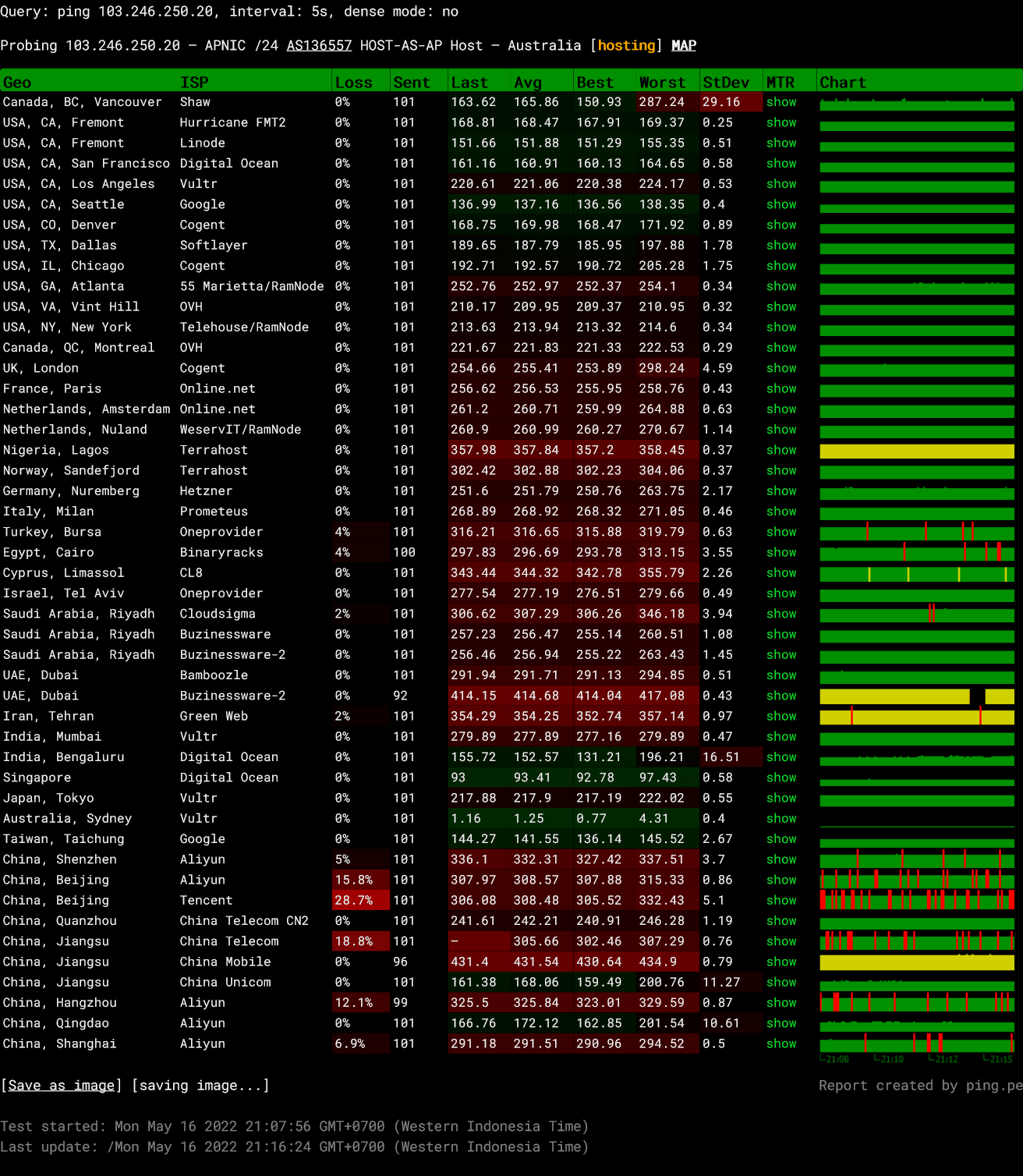 On yabs benchmark before, this VPS have network speed :
iperf3 Network Speed Tests (IPv4):
---------------------------------
Provider        | Location (Link)           | Send Speed      | Recv Speed
                |                           |                 |
Clouvider       | London, UK (10G)          | 436 Mbits/sec   | 469 Mbits/sec
Online.net      | Paris, FR (10G)           | 717 Mbits/sec   | 430 Mbits/sec
WorldStream     | The Netherlands (10G)     | 530 Mbits/sec   | 437 Mbits/sec
WebHorizon      | Singapore (400M)          | 823 Mbits/sec   | 465 Mbits/sec
Clouvider       | NYC, NY, US (10G)         | 525 Mbits/sec   | 359 Mbits/sec
Velocity Online | Tallahassee, FL, US (10G) | 731 Mbits/sec   | 376 Mbits/sec
Clouvider       | Los Angeles, CA, US (10G) | busy            | 484 Mbits/sec
Iveloz Telecom  | Sao Paulo, BR (2G)        | 7.67 Mbits/sec  | 96.4 Mbits/sec
Load Test
To check load test server responses, i installed EasyEngine for easy wordpress with nginx installation and Loader.io to test the wordpress site, 1000 client in 1 minute.
Easyengine default installation used PHP8 and MariaDB 10.5 based on easyengine/mariadb:v4.1.3 docker image. Now i want to load test with loader.io with configuration : 100 clients over 1 min and 1000 clients over 1 min.
Load test 100 clients over 1 min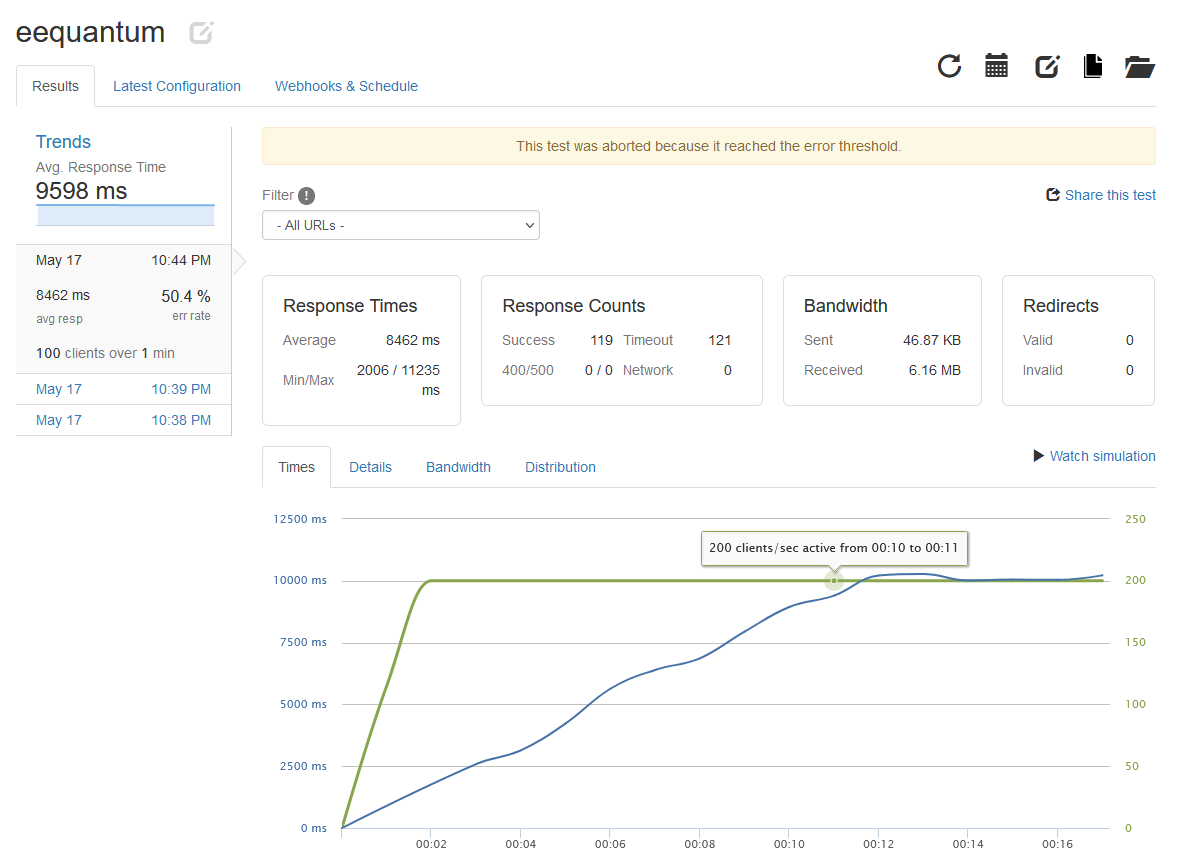 Average responses time is 8462 ms (10 second) with 50.4% error rate.
Load test 1000 clients over 1 min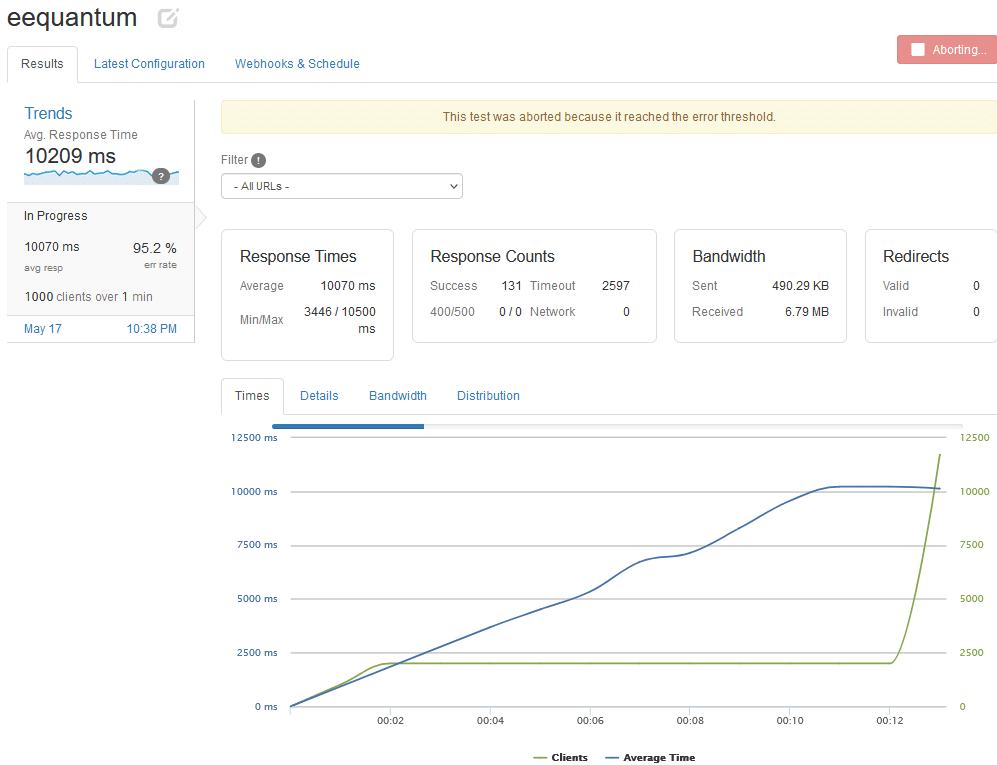 Average responses time is 10070 ms (around 10 second) with 95% error rate.
Bonus (Capable to install windows or not?)
Last but not least, if you have read my post before (Quick Install Windows Server with Windows template), this vps use vda disk with 30GB diskspace. So i decided to install windows 2012 R2 to this server using Rescue, and voila !
rescue # wget -O- 'http://www.danielcardoso.ovh/VirtIO/Server2012R2Std.gz' | gunzip | dd of=/dev/vda
URL transformed to HTTPS due to an HSTS policy
--2022-05-17 16:17:20--  https://www.danielcardoso.ovh/VirtIO/Server2012R2Std.gz
Resolving www.danielcardoso.ovh (www.danielcardoso.ovh)... 172.67.211.174, 104.21.23.151, 2606:4700:3033::6815:1797, ...
Connecting to www.danielcardoso.ovh (www.danielcardoso.ovh)|172.67.211.174|:443... connected.
HTTP request sent, awaiting response... 200 OK
Length: 4742980524 (4.4G) [application/x-gzip]
Saving to: 'STDOUT'

-                     100%[========================>]   4.42G   104KB/s    in 14m 50s

2022-05-17 16:32:11 (5.08 MB/s) - written to stdout [4742980524/4742980524]

41943040+0 records in
41943040+0 records out
21474836480 bytes (21 GB, 20 GiB) copied, 892.189 s, 24.1 MB/s

Windows 2012 R2 successfully copied. Let's check login with noVNC console or RDP, don't forget to disable Rescue option first !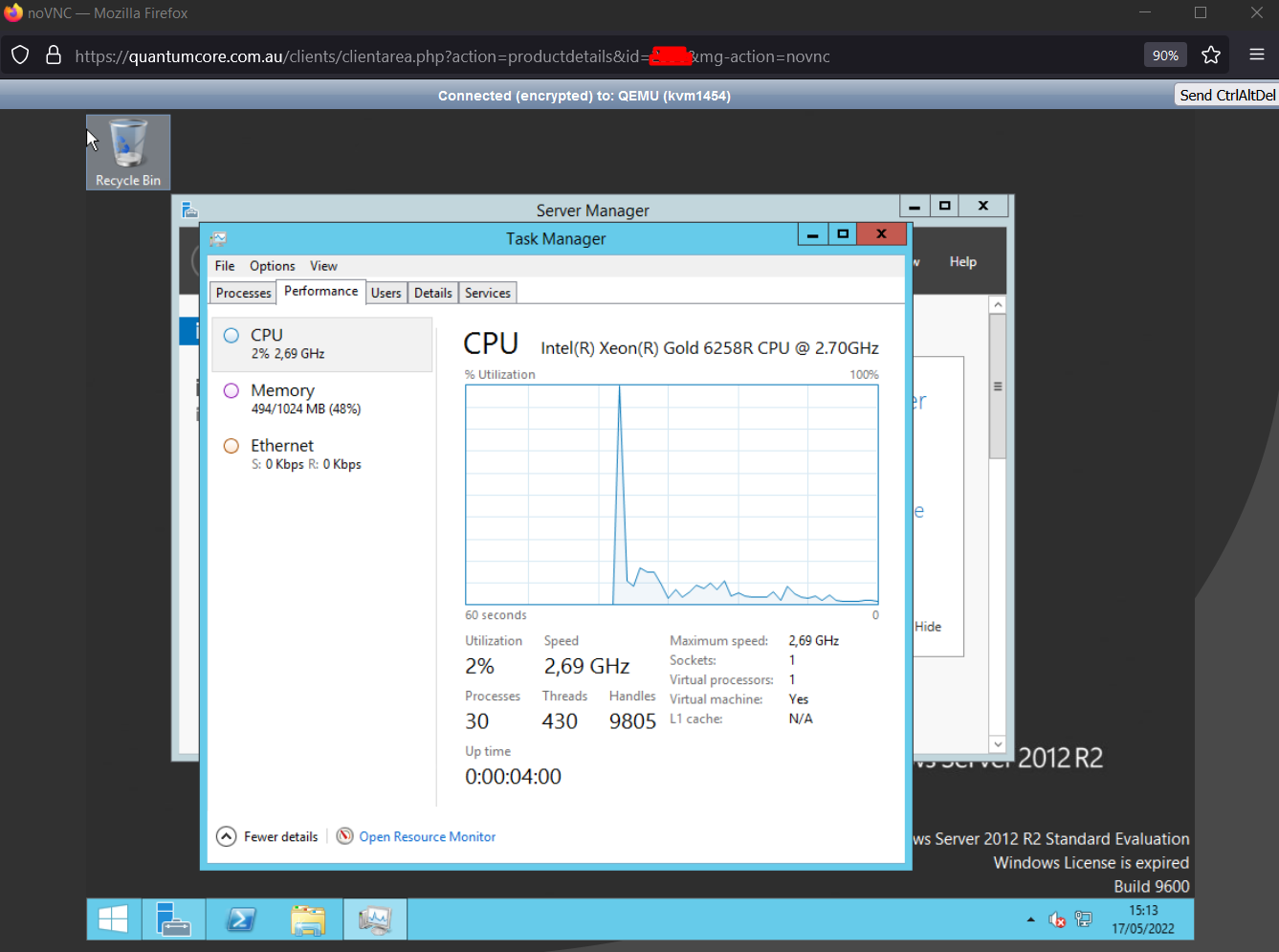 Windows 2012 R2 Successfully installed on this server, with around 500MB Available RAM and not so excessive CPU usage.
Conclusion
Quantumcore VPS Qubit-1 plan ($5 AUD per month) with specifications : 1 Core Xeon Gold (single core value : 741), 1GB RAM, 30GB NVME.
This server can still achieve 50 clients over 1 min when loadtest with loader.io with around 5000ms (5sec) and 0% error rate which is all of 50 users still can access the site but with 5 sec responses time.
Quantumcore Qubit-1 plan network speeds is quite good based on yabs benchmark, but in my opinion this vps have best optimal results if you lived around southeast asia like Singapore, Indonesia, Malaysia and local Australia.