Finally, after waiting a few months, they announced The Shubhra Kar Linux Foundation Training (LiFT) Scholarship 2022 on this month (June 2022). Alhamdulillah, i got selected as one of LiFT Training Scholarship recipients. 🌟
In case you don't know before, on 5 April 2022, I tried to apply for The Linux Foundation Training Scholarship which I posted here.
There are several questions when I applied to LiFT Scholarship :
Tell us about how you've used Linux or other open-source software in your work environment and what the results have been. How will open-source training help demonstrate your level of expertise to peers and potential employers (limit 1000 characters)?
For which training course are you seeking a scholarship? Have you enrolled in a Linux Foundation Training course before?
Please describe your educational background. (limit 500 characters) *
What has been your experience with using and/or developing open-source software? (limit 700 characters) *
Why are you deserving of a LiFT Scholarship? (limit 700 characters) *
Why is learning more about open source important to your future (limit 1000 characters)?
For the question: "Why is learning more about open source important to your future (limit 1000 characters)?",
and my answer is
A few days ago i joined "Building a Career Through Technology & Open Source Community" webinar (https://youtu.be/Z89Yid_MqDM), and its open my eyes that Open Source is really important about my future. Open Source can be a golden way to achieve my career goals. Like if i were software developer, i can help solving issues on open source repositories and commit push request to them, and if accepted, i will be marked as one of their contributor and it can be a "red carpet" to get better jobs in technology companies.
Thanks to Mas Giri to tell us that contributing to Open Source can be a way to improve existing skills, meet people with similar interests, grow our reputation, and can be the "red carpet" to getting better jobs.
Anyway, back to the main topic ✌
They sent me an email about LiFT Scholarship Recipient on 1 June 2022, next day I have to complete the acceptance form by uploading my photo as a follow-up, and today (23 June 2022) I get an Instructions email on how to redeem the course and certification.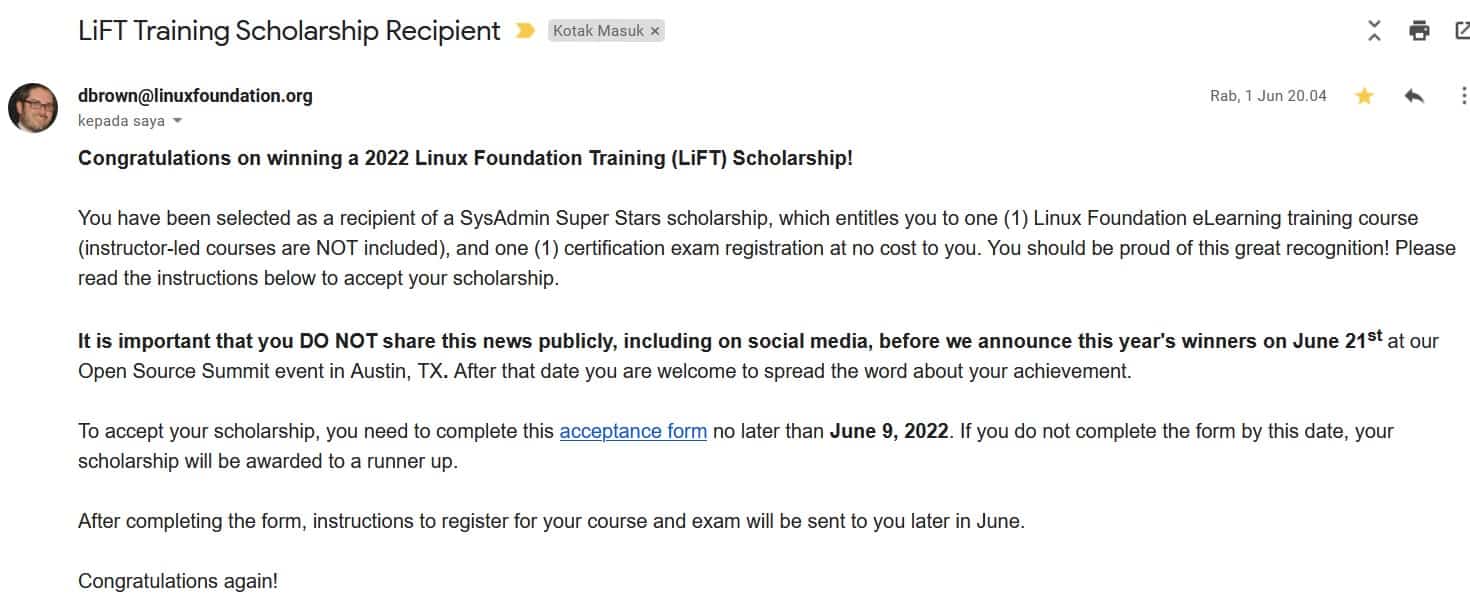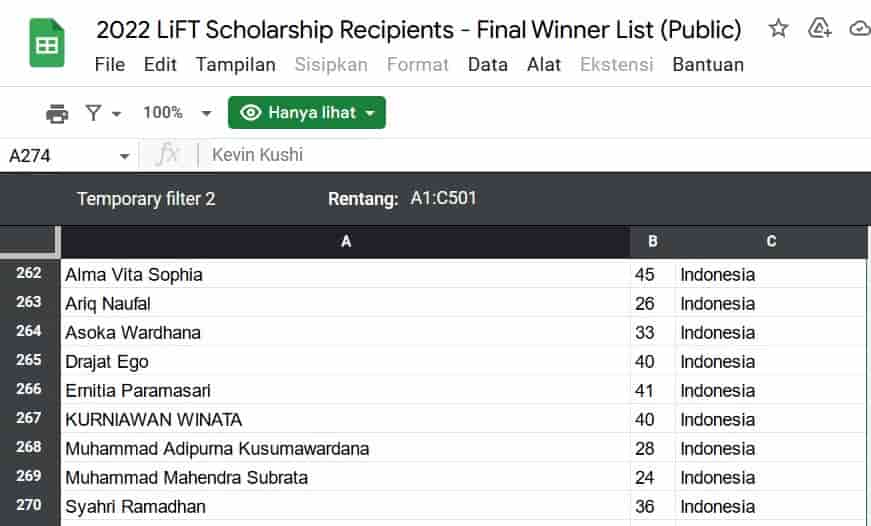 You can check the formal announcement here
Thank you The Linux Foundation for the opportunity! Congrats to everyone who wins this year's scholarship too 🎉
and thank you guys for reading this post 🙌